From today on, our new eBook about the daimyo garden Koishikawa Kōrakuen is available!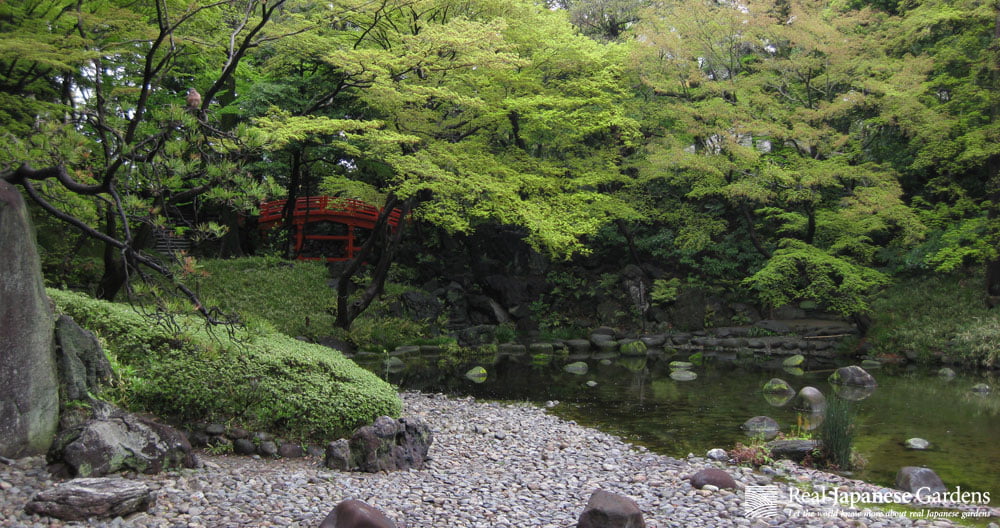 This garden is one of the two most famous Japanese gardens in Tokyo. It is a perfect example for the strolling gardens (kayushiki teien) of the Edo period.
Gardens of this time took elements of every previous garden style and combined them in a pre-set route through the garden.
Those elements were not arranged to evolve in one special highlight, but every single one was equal to the other.

There is some similarity to the popular pilgrim routes of Shikoku and Kyoto.
On every of these routes, a special amount of temples should be visited (on Shikoku, there are 88 and in Kyoto 33). Every temple is equal to the other. There is no real starting point and no ending point. It is a circuit route.
Another very popular element in Edo gardens is shukkei (not to be mistaken with shakkei!). Shukkei is the usage of a special form, which represents a famous natural or man-built piece of art.

It has not to be an exact replica, as the forms were symbolized and well known among Edo people.
The dam of the West Lake in Chinas Hangzhou in the Koishikawa Kōrakuen is a great example.
Very popular during Edo period was a board game, named Sugoroku. It was played with dice and it also had the goal to view famous places all over Japan. When arriving at a field with a sightseeing spot, the player dreamed himself away into this place.
The Koishikawa Kōrakuen in Tokyo was started to build by Yorifusa of the Mito clan . He visited a lot of other gardens and famous spots around, before the constructions began, like the earliest garden manuals demanded.
His third son Mitsukuni finished the Kōrakuen.
It was quite normal, that an Edo strolling garden was not planned as a whole from the beginning. It evolved during the construction process and every generation added or rebuilt something.
The route of a strolling garden should be to a half around the pond, the other half through forests or artificial hills.
The hills were designed rounder and one could climb them. A new development of Edo period.
In Kōrakuen, one can climb up the shukkei of Mount Ro.

The shorelines of the ponds became smooth. There were no exciting stone arrangements at the shores anymore.
Also, no beaches covered with pebbles or sand.
The crane and turtle islands became rare. It was also possible, that only one alone appeared in a pond.

Stone arrangements were not formal anymore. Huge and great stones were used instead. For example, as an arrangement, which symbolizes Mount Hōrai.
Also popular during the Edo period were so called Ying-Yang stone groups.
Furthermore, plants became an important element. The lords of that time wanted to show rare and beautiful flowers. We also find orchards and fields in a garden.
All this above mentioned characteristics can be found in Koishikawa Kōrakuen Garden in Tokyo. It is really worth a visit!
Until you are able to do so, or using it as an additional guide while walking through the garden, read our eBook, in which you will find information on every garden highlight with explaining and scenic photographs.

Get your copy of our 23 page eBook about Koishikawa Kōrakuen, delivered in pdf and mobi, for only 1.95$!
---
Support our Work on Patreon
klick for more info