Last time, I told you about special events held in Tokyo's gardens.
Today I want to introduce special openings and events in Kyoto during the autumn foliage. 
However, I won't write of every special event as there are far too many! This is only a list of some examples.
Most people who love Japanese Gardens dream of visiting Kyoto with its many, many temple gardens of every style. And when spending money on a trip to Japan, they often choose one of the two most famous and beautiful seasons of Japan: Cherry blossom or autumn foliage.
But I think there is something you should know in advance, to make your stay at this time pleasant and nice.
Everyone wants to visit Kyoto during autumn foliage. With a cheap Yen, especially big groups from China and Korea are coming to Japan during this time of year. If you dream of photos of gardens without anyone to be seen in them, you should consider visiting during another time of year… However, if you really want to come to Kyoto then, make sure to book your hotel very far in advance! Autumn foliage in Japan is quite late, compared to Europe. It normally begins on one Mountain in Hokkaido in Mid-September and then slowly wanders down to Kyushu. The greatest chance to see the foliage in Kyoto is at the end of November. If possible, choose to stay during the week and stay away on weekends!
So. You made your hotel reservations and are ready to start picking the gardens you would like to visit?
Ok!
Now it's my turn!
If you are in Kyoto for the first time, I am sure you want to visit the famous spots like Kinkaku-ji, Ginkaku-ji and Ryōan-ji. If you are walking down the Philosophers Walk, Nanzen-ji might also be on your list. As well as these much-loved spots, Kiyomizu-dera and the famous Inari shrine and nearby Tōfuku-ji are probably also on the list. You would love to visit the moss temple Saihō-ji, but are not sure yet if you can do the reservation process.
Regarding the last: unfortunately it is not so easy anymore to do it from overseas. If you stay in another part of Japan before you arrive in Kyoto, make sure to apply as soon as you can. The staff at your hotel will help with the special postcard you need for the process. For other people: there are already some businesses taking care of the process for you. I haven't tried one of those yet, so I don't want to give recommendations. However, I guess you can ask Uncover Japan at: http://www.uncoverjapantravel.com
If you already tried one, I would be happy to hear your experiences in the comments!
The other famous gardens and temples on your list will be very, very crowded. So, take care of yourself!

But now to the main point of this article: the small temples almost no one knows, special openings and light-up events.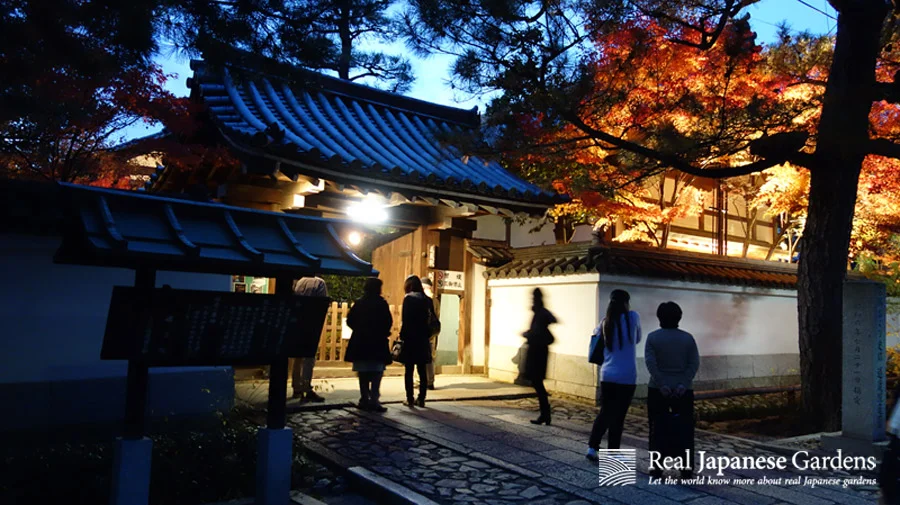 There are some temples around Kyoto that are mainly frequented by Japanese people. These are also crowded, but not as much as famous tourist spots alongside the sightseeing routes. Most of these you will find in northern Kyoto.
Special openings are normally held during autumn foliage season and cherry blossom season. Most of the time, you can find them in the sub-temples of bigger temple complexes like Daitoku-ji, Tōfuku-ji or Tenryū-ji. Along the Philosophers Walk you will also find some temples only open for visitors during this season. Last year, Real Japanese Gardens visited some of these. You can read about our trip here, here and here.
During autumn foliage, a lot of light-up events are held. These are best on temples with great foliage colour, but gardens that may not be of particular interest to you.
During light-up events, they are often open until 9pm, so you can visit them when all the other gardens are already closed. One famous light-up event can be experienced in Kodai-ji. Here it is combined with a seasonal changing decoration of the South garden and the bamboo forest. It begins at sunset and is open until 9:30 pm. The entrance fee is ¥600.
Special light-up examples:
Jisso-in – This is a temple with strong relations to the Imperial family or those of high rank (samurai feudal lords, for example), named a 'monzeki' temple. It has a special light-up event from 6 – 9 pm from the 15th November and is ¥500 to enter.
Around a similar date, (14th—23rd) Unryu-in also starts its light-up event from sunset – 8:30 pm, for ¥400 entry.
Konkaikomyo-ji also begins on 14th – 29th, from 5:30 – 8:30 pm, for ¥800 entry. This temple sits on a hill in the Northern Higashiyama district, over looking Kyoto.
Throughout almost the whole of November the following temples have light up events:
Takao Momiji – 15 km outside of Kyoto, for those after a little extra adventure.
Open 5-8 pm, free (1st – 29th).
Shoren-in temple – Originally a residence, so a little unlike other temples in appearance, however this is a lovely intimate space with a garden centered on a carp pond.
Open 6 – 10 pm, ¥800 (1st – 30th).
Chion-in temple – Said to be the grandest temple in Southern Higashiyama district and close to other temples, such as Shoren-in above.
Open 5:30-9:30 pm, ¥800 (6th – 30th).
Kitano Tenman temple / Odoi Kamiya-gawa River walk – Usually renowned for its crop of plums, but in recent years it has opened to the public during autumn for light-up.
Open sunset – 8 pm, ¥600 (November – start of December).
If you would prefer to miss the mayhem of the peak autumn season, but are still interested in a light-up event, it is possible to see one during mid-December. This is the Kyoto Saga-Arashiyama Hanatoro (Path of Lights and Blossoms), 5 km long. The illumination of lights from open-air lanterns reflects off the adjacent waterway, over which one can walk on the Togetsukyo Bridge. The bamboo forest paths are all illuminated and flower arrangements by the Kyoto Ikebana Association can also be admired. Temples in the area will have special openings for this too.
Open 11th – 20th December, 5 – 8:30 pm.
Other lesser-known temples (without light-up events):
Kennin-ji – This is a temple of the Rinzai Zen sect of Japanese Buddhism (one of three main branches), and was founded in 1202 by the priest Yousai (1141-1215). He is also known for introducing the Zen sect and the tradition of drinking tea into Japanese Buddhism after a voyage to China. Due to the latter introduction, he is recognized also as the founder of the tea ceremony.
Open 10 am to 4pm, entrance ¥500.
Reikan-ji- Open only for the first two weeks of April and the last two weeks of November. The Philosopher's walk is just below this small temple, which is famous for its camellia in spring. However, during autumn, many maple trees sprinkled throughout the grounds give a shock of stunning red hues.
Open 10 am – 4 pm, entrance adults ¥600, children ¥300.
Jojakko-ji – This quieter temple has space to sit and think beneath a pretty little pagoda.
Open 9 am – 5 pm, entrance ¥400.
Gio-ji – This is a temple in miniature, and yet a very scenic spot. It overlooks a fairy-tale like mossy grotto.
Open 9 am – 5 pm, entrance for adults ¥300, children ¥100.
As you can see, there are plenty of temples and events to choose from… so take your pick, don't forget your camera and have fun! 😉
---
Support our Work on Patreon
klick for more info