Almost every Japanese garden in Kyoto hosts one part which is covered in nice, fluffy moss.
When building a Japanese garden outside of Japan or even in another area in Japan, there might be some problems when it comes to establishing moss in it.
Although moss doesn't need much to grow, there can be too much. Too many nutrients in the soil will enable other plants to overgrow moss. If we don't have enough humidity, it can be hard to grow nice varieties of moss as well.
If we have too much sun, only yellow appearing mosses grow nicely.
Maybe we try once or twice to establish moss nonetheless, but when the moss still doesn't grow, we might think of an alternative to moss.
Today I want to introduce some plants we can use for this purpose.
Mondo grass for shade
Ophiopogon japonicus
This plant is an Asparagaceae and a relative of Aspidistra.
Especially in Tokyo and more northern parts of Japan, it is often used as a substitute for moss.
Its leaves have a dark green color and over some years it forms a dark green carpet.
Light: It can also grow in the sun, but it will look better in partial shade and shade.
Soil: It likes humous, slightly acid soil.
Water: Mondo grass shouldn't be kept too wet. It is quite easy to handle.
USDA: 7-10
Sedum for sun
Sedum var.
The most beautiful substitute for moss I've ever seen, I found at the international gardening show in Hamburg in 2013.
A company tried to build a small Japanese garden there and used some mixed varieties of Sedum to gain the effect of a moss-covered hill. It looks like Sugigoke in summer.
This mixing is only good for some months though, because the stronger varieties of Sedum will overgrow the weaker ones.
One needs to try which ones are working best in the own garden.
Light: Sedum likes a sunny place.
Soil: Not too humous, it likes well drained and sandy soil.
Water: Don't give too much water or Sedum will rot. This is a plant for dry places!
USDA: 4-9 (for Sedum spurium)
Heath Pearlwort or Irish Moss for partial shade
Sagina subulata
I've seen pictures of one rock garden using Sagina in-between.
Since then it is my dream to once use it as a ground cover as well.
I think the garden looks gorgeous and it makes a nice substitute for a lighter moss variety.
Sagina is sold in Japan as well, so maybe my dream will become true?
Light: Sagina can be planted in sun or partial shade.
Soil: Not very demanding, normal soil or sandy soil.
Water: Don't keep it too dry. Water regularly in dry periods.
USDA: 3-9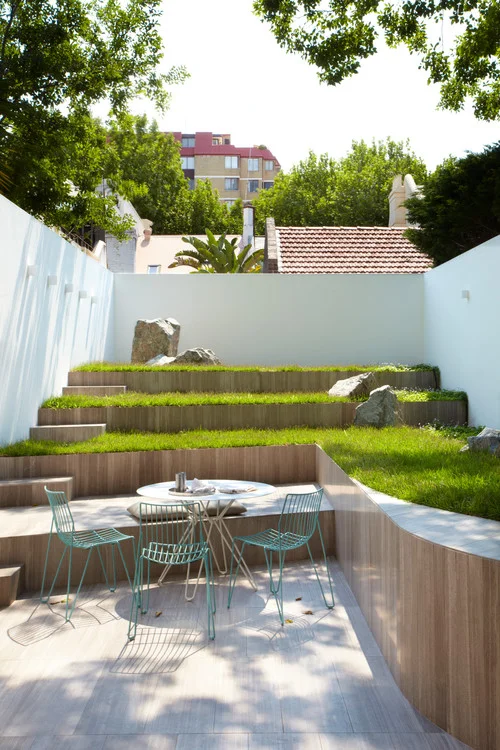 Zoysia grass / Manila grass for sun to shade
Zoysia japonica (colder areas) / Z. matrella (warmer areas)
In Japan, a very drought resistant grass is used, which can deal with the extremely dry and hot summers.
This grass also makes a good substitute for moss, because it is quite slow growing.
Two varieties are used often: Z. japonica for colder and more exposed areas and Z. matrella for warmer and shady areas.
Zoysia becomes yellow in winter.
Light: Z. japonica likes sunny or partial shaded spaces while Z. matrella also tolerates shade.
Soil: Needs well-drained soil. Around pH 7.0 is best.
Water: Doesn't need too much water. For staying green in hot, dry summers, a regular water supply is necessary.
USDA: 5-10
Hairy Frogfruit for sun to partial shade (not recommended for Australia!)
Phyla (Lippia) canescens
This groundcover is really nice, especially when the plant is in bloom. This gives a special touch to every garden and can function as a surprise in a Japanese garden!
However, there is one negative point about this plant. It may not be green in winter and lose all its leaves.
Maybe the perfect substitute for a summerhouse outside of the city.
Phyla is an invasive weed in Australia, but it doesn't make problems in most other countries.
Light: Sun is better, but it will also grow in partial shade.
Soil: No special soil needed. But well-drained soil would be better.
Water: It doesn't need as much water as a lawn. If it rains regularly, giving extra water is not needed.
USDA: 8-11
These plants are only a few possible substitutes for moss. I hope I will be able to publish a more detailed eBook someday!
If you are interested in what varieties of moss are used in a Japanese garden and how to establish moss in your own one, have a look on our eBook about Moss in the Japanese garden.
---
Support our Work on Patreon
click for more info