It's been almost two months since I'm working in Real Japanese Gardens. Few times per week we spend in the construction sites doing maintenance and planting. In this article I would like to tell you more about the most common plants we are working with. They are easy to care and can grow well outdoor. In Japan people prefer evergreen plants and less flowering plants. Let me share the list of the most popular plants Japanese use in their private gardens.
Japan is home to an astounding array of fern species. Bracken (Pteridium aquilinum) is a common plant in Japanese style gardens. It is tolerant of a wide range of soils and climates. It's the best option in partial or fully shaded areas where you may have trouble getting other plants to flower. In autumn the fronds turn reddish-brown and die back to ground level, with new fronds unfurling from the base in spring.
Mix of  different varieties of Sedum.  Perfect for rock gardens, walls, pathway niches, and containers; as edging for borders; or in sweeps on hillsides. An evergreen ground cover, it gives the effect of a moss-covered ground/hill. Sedums actually decrease work for a gardener as they increase in square footage. They are among the most versatile, drought-tolerant, and easy-to-grow perennials.  Most creeping sedums prefer full sun but will tolerate partial shade. The leaves of evergreen species turn shades of red and russet in winter.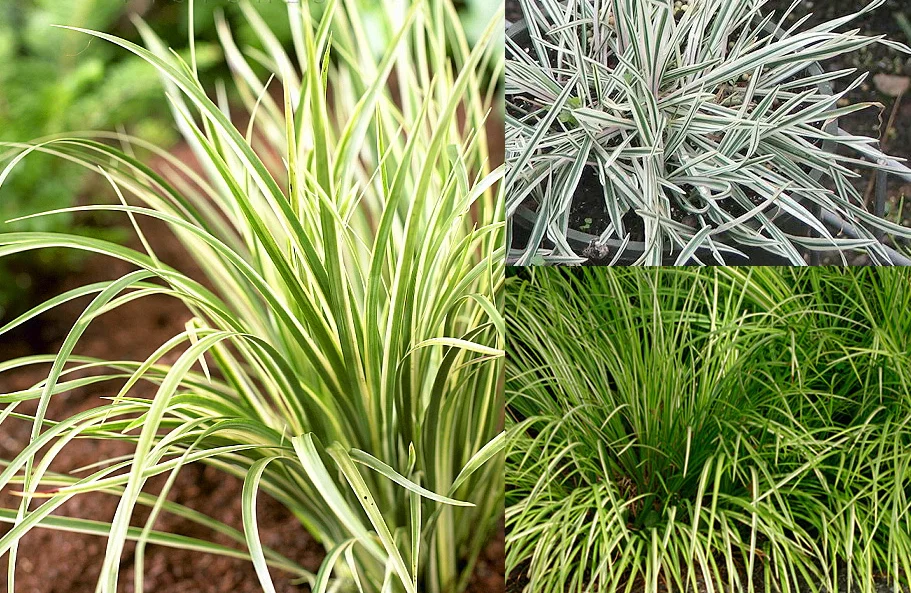 Many varieties of Acorus griminess (Sweet Flag). Semi-evergreen Japanese plant is best grown in very moist soil. Acorus gramineus when grow outdoor is easily grown in average, medium to wet soils in full sun to part shade. It can be used as groundcover, in erosion control, rain garden or as a water plant.

Ophiopogon japonicus (well known as mondograss, fountainplant, monkey grass), an evergreen, sod-forming perennial plant. 
It is providing an excellent ground cover. Ophiopogon japonicas is a low maintenance plant, suitable for a range of soils. It is very frost hardy and tolerates sun to semi-shade. White flowers in summer are followed by black berries. Can be used as a lawn substitute, to edge borders and paths.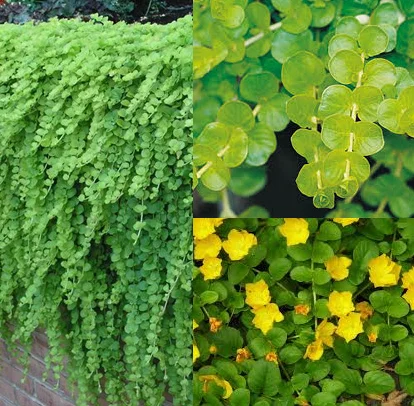 Lysimachia nummularia, it is a  low-growing, rampant, evergreen ground cover with rounded, golden yellow leaves. Grow in a moist, but well-drained soil; full sun or partial shade area.  In summer it produces  bright yellow flowers. Lysimachia nummularia is a moderately fast grower, is one of the most undemanding stem plants to grow.  The plant is good as ground cover; near ponds and in  bog gardens. This ovate leaved stem plant is best suited as a midground and background plant.
Microbiota decussate (also known as Siberian carpet cypress, Russian arbor-vitae), an evergreen ground-covering conifer that can tolerate minus-30 or colder weather. Easily grown in average, moist but well-drained soils in full sun to part shade. Best performance is in cool summer climates. Ground cover for banks and slopes. Specimen or ground cover for rock gardens, shrub borders or foundations.
Pachysandra terminalis (Japanese spurge), a Japanese native plant. It is a slow-growing, spreading evergreen perennial. The leaves may yellow in winter. It has white flowers in early summer. Use as a massed ground cover, low grouped element, or accent plant in the ground. Can grow in any soil, except very dry. It  tolerates sun to full shade.

Helleborus (Christmas rose), evergreen perennial flowering plants. Not Japanese traditional plant, but widely used in modern and semi-west private gardens. 
Best grown in groups in a woodland or shady border. In Japan, flowers are produced in winter and run the gamut from white, green, pink, purple, cream, and sometimes spotted. Tolerates a wide range of soils and exposures and sun to part shade. Depends of individual species.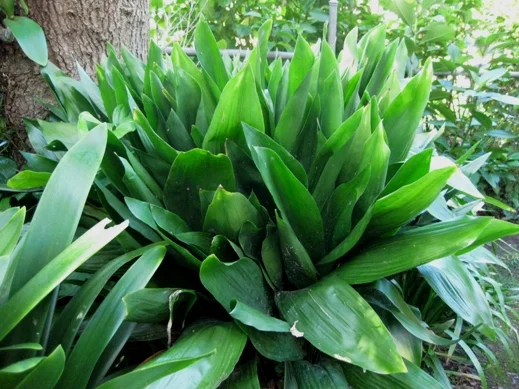 Aspidistra elatior,  native to Japan and Taiwan. It is able to deal with any light (but not  too much sun) and fully capable of dealing with poor light conditions. Aspidistra elatior is not a fast grower and It does takes a long time to grow to a salable size. It is widely cultivated as a houseplant, but can also be grown well outside in shade where temperatures remain above −5°C. The plan is tolerant of low humidity, temperature fluctuation and irregular watering.
Different varieties of Heuchera, low maintenance semi-evergreen plants.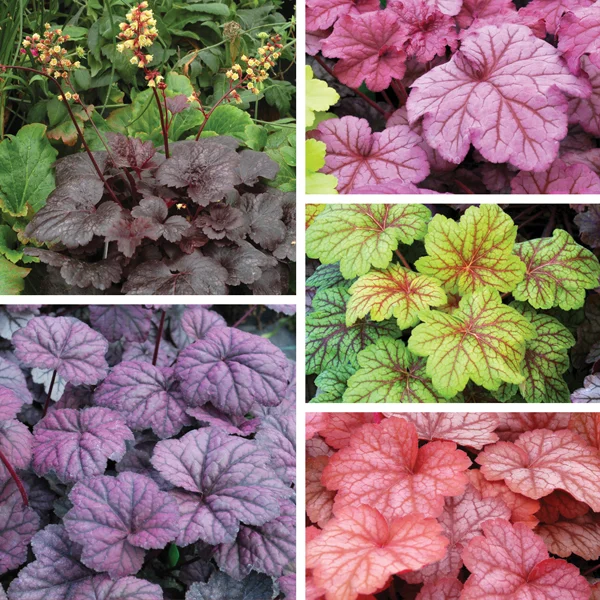 It is easy to grow and come in a range of different colours including pinks, oranges, greens, purples. Great for growing in borders, woodland, slopes, containers, and hanging baskets. Heuchera is not used in traditional Japanese style gardens. Well grown in fertile, well-drained soil in sun to part shade.
Abelia x grandiflora, the glossy abelia, wide range of flowering shrubs – mainly evergreen but one or two also deciduous types of Abelia widely available. The flowers are produced in clusters, white, tinged pink, bell-shaped. They prefer to be grown in full sun, but will tolerate light shade also.; well-drained soil. It's perfect for growing in a mixed or shrub border.
Hydrangea (hydrangea or hortensia).They can be either deciduous or evergreen, though the widely cultivated temperate species are all deciduous.
The flowers can be  white, blue, red, pink, light purple, or dark purple. Hydrangeas are  very popular ornamental plants in Japan, grown for their large flowerheads.  Hydrangeas thrive in a moist, but well-drained soil, in a cool, semi-shady part of the garden. They're not only easy to grow but are also quite hardy and resistant to most pests and diseases, making it even easier to care for hydrangeas.

Varieties of Ilex crenata (Japanese Holly) is a small-growing, evergreen shrub with dark to mid-green/yellow, glossy leaves. The white flowers are followed by black berries.
The plant grows in almost any conditions except water logged soil, prefers slightly acidic soil.  It does well in shade or sun. The evergreen and compact habit allows it to often be clipped into cones, balls, spirals – it is a popular plant among Bonsai enthusiasts. Japanese holly is often used in foundation plantings, hedges, beds and borders, or formal gardens. Ilex trees and shrubs can be planted at any time when the ground is workable.  Container grown plants are available for planting all the year round.

Rosmarinus officinalis (known as rosemary), is a woody, perennial shrub with fragrant, evergreen, needle-like leaves and white, pink, purple, or blue flowers.
It prefers a light, sandy soil of medium to low fertility. However, rosemary will tolerate most growing conditions, as long as it is not waterlogged. Rosemary is one of the most commonly grown herbs in the gardens in Japan, but it does not belong to Japanese tradition style. The plan is well suited to container growing as well. It is very easy to grow.

Lavandula (common as lavender) is evergreen shrub, well known of masses of beautifully scented flowers above green or silvery-grey foliage. The flowers may be blue, violet or lilac in the wild species, occasionally blackish purple or yellowish. 
This drought-tolerant plant thrives in a sunny border,  herb or gravel gardens. Most lavender can be grown in pots.  It is easy to grow in the right condition. Lavender needs sun and well drained soil and dislikes wet, especially winter wet which  it will not tolerate and this can causee the plant will die in parts or completely. Lavender is very popular among Japanese, however it is not used in Japanese traditional style gardens.
Lonicera nitida,  a species of perennial shrub with creamy white, fragrant flowers followed by bluish-purple berries.  It can grow on dry sandy soils as well as chalky soils but does not like waterlogged ground. This plant is often used by beginners in  Bonsai Art.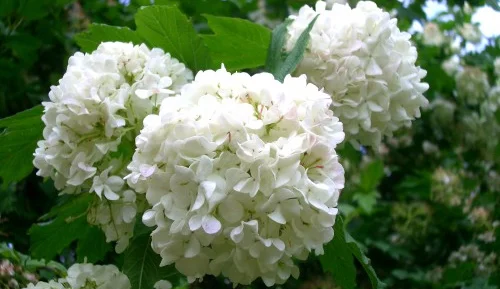 Viburnum plicatum (or Chinese snowball), a semi-evergreen or evergreen shrub. It bears large blousy flowers, similar to hydrangea blooms. Easily grown in average, medium moisture, well-drained soil in full sun to part shade. Prefers moist, acidic loams, but tolerates a wide range of soils.
Varieties of Farfugium japonicum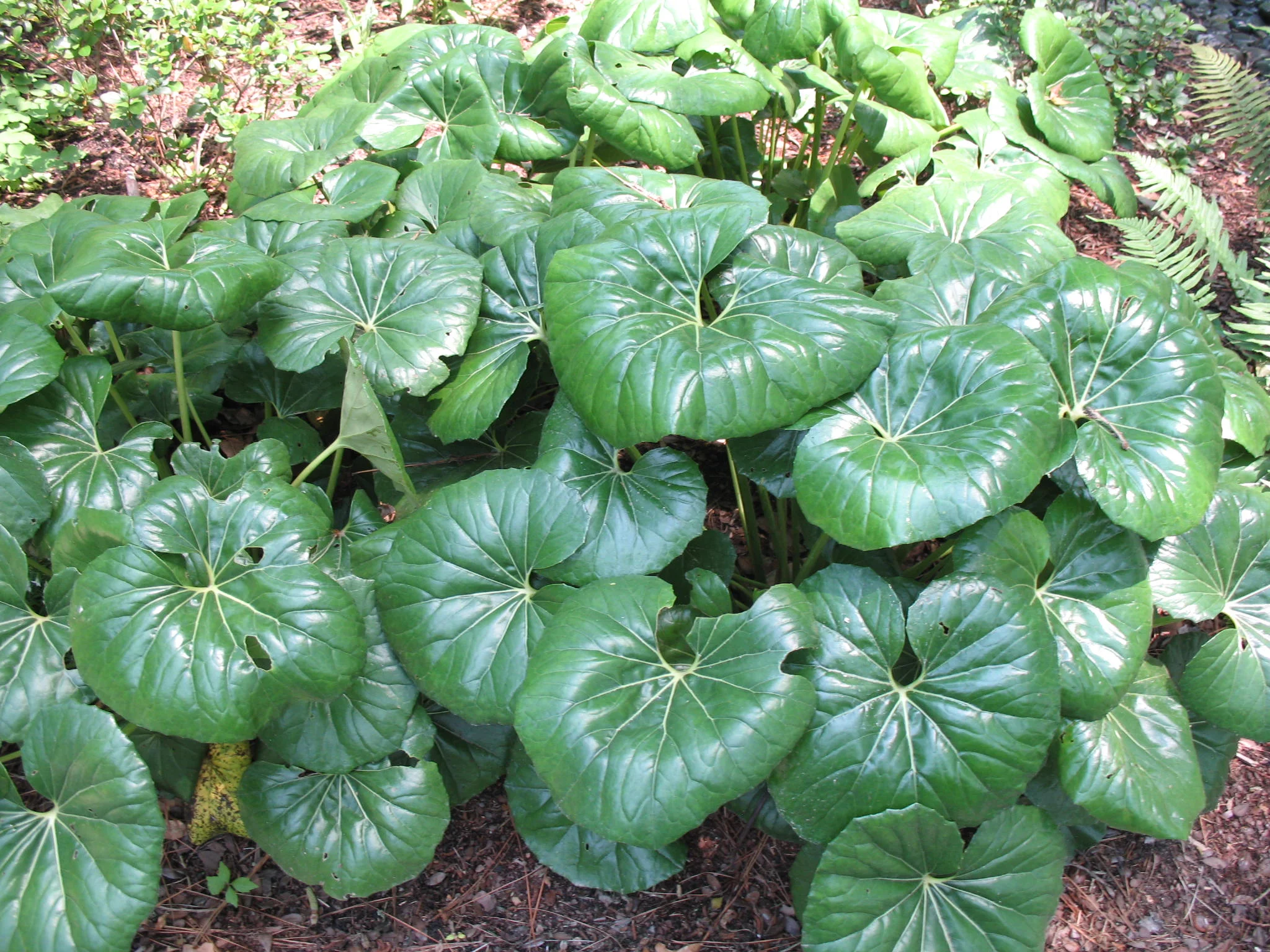 (Leopard plant), evergreen plant is native to streams and seashores of Japan. The plant is very popular in Japanese style gardens. It is the best grown in organically rich, medium moisture soils in part shade to full shade; prefer moist soils that never dry out. Leopard plant often used as a groundcover or accent in a woodland garden, on the edges of streams or lakes, and in containers.
Equisetum hyemale (Horsetail reeds), an evergreen plant with tall, dark green stems horizontally striped with black.
It is evergreen even in the hardest weather and useful for giving winter interest to the pond, especially in a native pond. It prefers full sun, semi-shade or shade and damp soil.
The list does not include all Japanese traditional plants, only most common.
The pictures are used from the internet.
-Aliya
---
For plants in traditional Japanese gardens, have a look into one of our eBooks!
---
Plants in the Japanese Garden
Japanese Garden Glossary Vol.1
Available as PDF
4.95$ Buy / Preview
Click for More Information
Moss in the Japanese Garden
Available as PDF
4.95$ Buy / Preview
Click for More Information
Bamboo in the Japanese Garden
Available as PDF
4.95$ Buy / Preview
Click for More Information
Auspicious plants in the Japanese Garden
Available as PDF
4.95$ Buy / Preview
Click for More Information
---
Support our Work on Patreon
klick for more info