It's finally time for a new eBook!
This time it will be again about a garden – but also about an old traditional Japanese house!
I am actually surprised how many old houses survived in Tokyo until now and how many of them are open to the public to visit!
The former Asakura Residence is located in one of Tokyo's liveliest districts!
The nearest station is Daikanyama, which is right between JR Yamanote line's Shibuya and Ebisu station.
Asakura Torajiro, the chairman of the Tokyo council had built this house and its beautiful garden in 1919.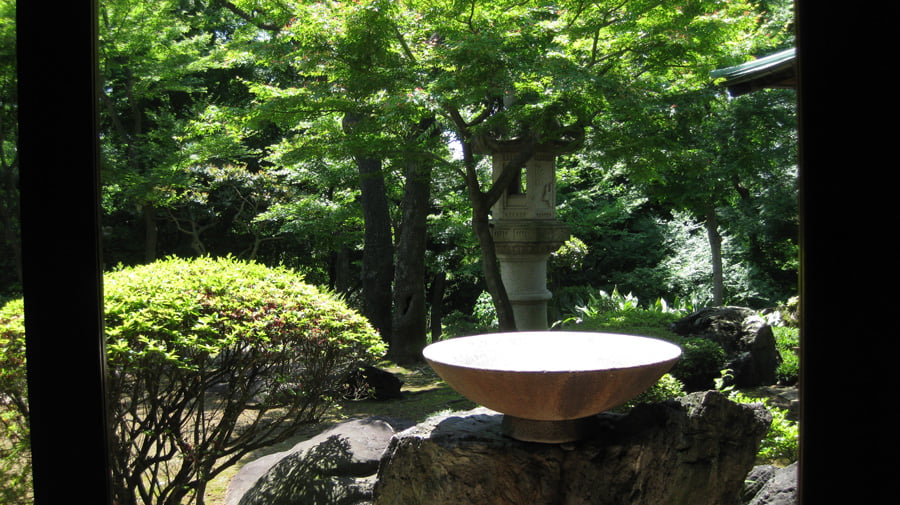 When I visited it during Golden Week in 2016, I was surprised how much information was available on site in English.
However, English information on the web is still rare and not every information in Japanese is properly translated into English.
I love to go deeper into my subjects of interest and found the provided information plates only show basic information.

Everyone who loves Japanese gardens would love to read more about the garden than "it is build on a rift line" and "there are a lot of lanterns placed on the grounds", right?
So I did it!
For this book (and for all the books I write) I digged deep deep into trustworthy Japanese information on the Internet and in printed books to present you a compact guide about the former Asakura residence with all the information you need for a visit.
But wait!
It is not only of interest for people actually visiting the garden, it is also introducing the garden "as if you were there" to people who cannot come to Japan!
And it also contains a lot of general information about Japanese garden elements, which you won't find easily in all the books promising you to create a Japanese garden at home in 10 easy steps.
This guide book is one I would love for myself when studying the Japanese garden culture!
If you got interested, please buy our book!
You will learn everything important about the history and features of the garden. Information which you can only find this compact and compiled in Real Japanese Garden's guidebooks together with 33 explaining and scenic pictures on 14 pages.
We deliver in PDF plus mobi (as a small present).
The eBook only costs 1.95$
I hope you have fun with your new eBook about a wonderful secret garden in Tokyo! Feel free to leave a comment here or a review on Goodreads!
-Anika
[youtube https://www.youtube.com/watch?v=9Bb3ddYko2k]
RJG presents:Kyu-Asakura House from Real Japanese Gardens on Vimeo.
---
Support our Work on

klick for more info