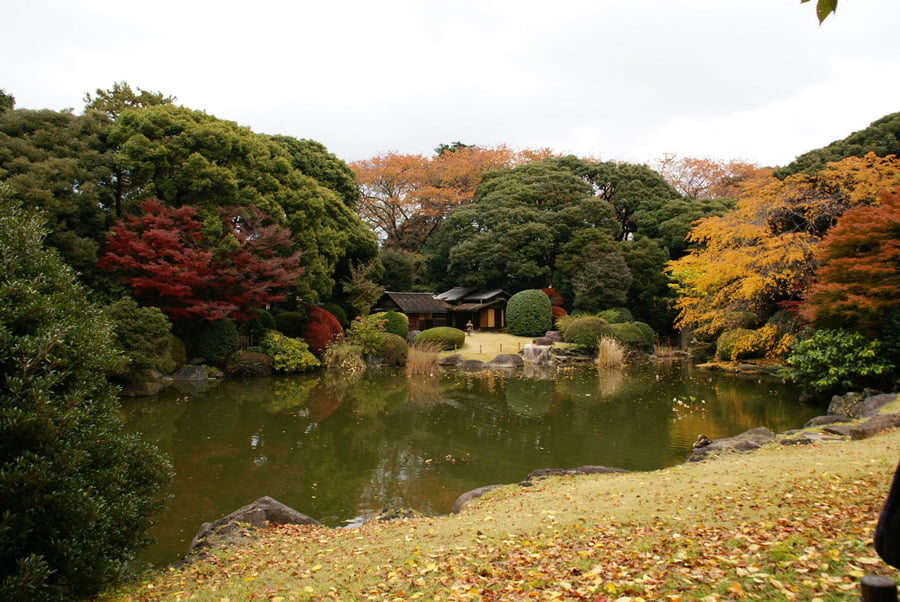 Finally I finished the last book in our "Gardens in Tokyo" series!
I am very happy and also a little bit proud.
The last book features the secret garden of the Tokyo National Museum, which is only open for the public in spring and autumn.
I visited the garden three times, twice in autumn and once in spring.
However, I wasn't able to see the cherry blossoms on their height and saw the autumn colors only once..
When visiting the garden, one also has to buy a general ticket for the Museum. It is advantageous to visit the museum while the garden is open and don't plan separate visits.
The museum's garden has no great history. The whole complex was built after the Boshin War around 1882 on the former grounds of Kan'ei-ji temple, which still exists around the Museum.
The garden features a pond with spectacular color-changing trees and five teahouses, mainly from the Edo period.

The teahouses were gathered from the Kyoto/ Osaka/ Nara region and have now a new home on the grounds of  the Museum.
All are very interesting in style and appearance and the garden around them is really beautiful. My favorite one is the Rokusōan!
The garden of the Tokyo National Museum is perfect to visit together with the Ueno Park, which is famous for cherry blossoms and autumn colors! Definitely a must see when in the area!
If you are interested to learn more, please visit our website and watch our eBook trailer.
[youtube=https://youtu.be/4eSnJULRkBQ]
The eBook was edited by Catherine D. Brown.
And if you like what you see, please consider supporting us on Patreon!
klick for more info