Karikomi is a special design and pruning technique in a Japanese garden which is often seen done with plants of the Rhododendron family in Japan.
It is separated into the usual karikomi and o-karikomi – a larger element in the garden put together by more than one shrub.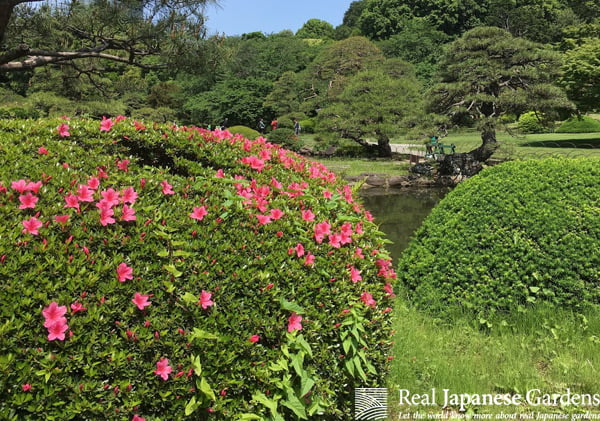 What I want to talk about here today is how to prune a shrub in karikomi style.
Other than the usual topiary forms, the bubbles in Japanese gardens are never a perfect ball. While the top is round, the shrub grows straight to the ground unlike the example picture below, which is a shrub in a western style garden.
The tools used for karikomi are the karikomi basami – hedge shears, and gardening shears. When under time pressure, a motor hedge shear is used (barikan).

Links behind images are tied to the Amazon Associates program
The theory of karikomi pruning is quite easy. First, one small area on the shrub is cut in a rainbow-shape. This is done not on top, but slightly under the top of the bush. From here the gardener works towards the top, the sides, the back and the bottom until the whole shrub is pruned. With a bamboo broom the shrub is patted until all cuttings fell off and with the garden shears all the small branches, sticking out now, are cut.
Finished!
However, there is still more to Japanese style karikomi. Specifically how to handle the hedge shears.
These shears's blades aren't straight, but curved. It seems likely that the curved downwards site will touch the shrub. However, the opposite is the case! You will cut the shrub with the curve looking upwards to always have the full control of how much is cut and to prevent accidently cutting holes into the shrub.
When cutting, hold one of the handles firm and only move the other one. Else you will get exhausted too fast!

I know that this sounds very easy while reading, but what really is necessary here is practice. If you are just starting with pruning, please always remember: plants grow! If the shape is not perfect after your first try, you will soon get a second, and third chance to improve your skills!
I had a lot of fun when I started with karikomi practice in my first years in Japan. Here you can see one result:

---
This article was first published on Patreon.
If you like what you read, consider supporting our Work on Patreon
click for more info
---
The following links are tied to the Amazon Associates program!
Useful tools and resources:
Price: $67.23
5-star rating.
Most common hedge shears used in Tokyo.
Click to see more details
Price: $33.33
4-star + rating.
Most common pruning shears used in Tokyo.
Click to see more details
Price: $34.65
5-star rating.
Most common garden shears used in Tokyo.
Click to see more details
Price: $32.94
5-star rating.
This type is used for Megiri.
Click to see more details
Price: $48.99
4-star + rating.
Most common professional pruning shears used in Europe.
Click to see more details
Price: $24.48
4-star + rating.
Click to see more details
Price: $16.96
4-star + rating.
Click to see more details