Summer is in full swing, we only want to sit somewhere doing nothing, but the garden is calling already.
It's time for planting bulbs!
Today I would like to introduce what kind of bulbs or rhizome-building plants are going well with a Japanese garden.
Some people think that flowers don't belong in a Japanese garden but that's not true. The early gardens like the huge viewing gardens of the Heian period were actually flower gardens but even in dry landscape gardens flowers are used as accents. The best example is the Rozan-ji temple in Kyoto where balloon flowers giving a colorful touch to the garden.
But also other flowers, and especially bulbs, can add to every Japanese garden.
Here I am giving you some examples:
---
カタクリ
Asian Fawn Lily
Erythronium japonicum
Planting: Sep. – Nov.
Flowering: Apr. – May
Colors: Yellow, purple
Height: ~ 20cm
Partial Shade – Shade
Not hardy in every region
Plant them at borders and under bushes.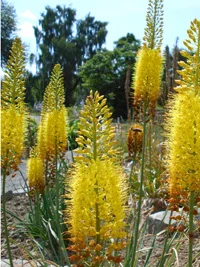 エルムレス
Fox Tail Lily
Eremurus ssp.
Planting: Oct. – Mar.
Flowering: May – Jun.
Colors: Yellow
Height: ~ 3 m
Sun
Very hardy
Plant them to bring some color-highlights into the back of your garden.
アイリス
Iris
Iris family
Planting: Sep. – Nov.
Flowering: Apr. – June
Colors: Yellow, purple, white
Height: ~ 50cm
Sun
Hardiness depends on variety and region.
Plant them near ponds to highlight it in early summer.
ヒガンバナ
Spider Lily
Lycoris radiata
Planting: Jul. – Sep.
Flowering: Oct. – Dec.
Colors: Red, (yellow, white)
Height: ~ 40cm
Sun – Partial shade
Not very hardy in cold regions.
Lycoris is looking great under trees, near ponds, and at the border of lawn areas.
スイセン
Daffodil
Narcissus
Planting: Sep. – Nov.
Flowering: Mar. – Apr.
Colors: Yellow, white
Height: ~ 40cm
Sun – Partial shade
Hardy
Daffodils are very popular in Japanese gardens along borders.
---
I hope I was able to give you some ideas on how and which bulbs can be used in Japanese gardens.
---
If you like what you see: support our Work on Patreon
click for more info
---
Related Content: