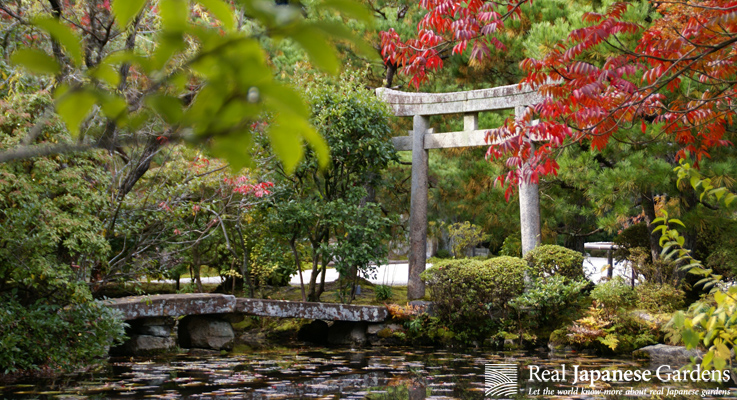 Konchi-in is a sub-temple of the Nanzen-ji temple complex. The temple was built in the early 15th century by shogun Ashikaga Yoshimochi (足利義持). In 1605, it was relocated from northern Kyoto to its present location inside the Nanzen-ji temple complex. A few years later, between 1611 and 1632, the garden was built in preparation of the shogun's visit. It is fairly certain that the famous garden designer and tea master Kobori Enshu (小堀遠州) has built the garden. A lot of gardens around Kyoto have been attributed to him, but in contrast to these, the creation process of this temple garden is very well documented.
The garden is said to have been designed as a two dimensional picture, not unlike a fusuma-e (襖絵)、a painting on the wooden screen that often depict landscape scenes and nature. Indeed, the garden can only be viewed from the veranda of the Main Hall of the temple. A wide band of light gray gravel separates the rock arrangements from the viewer. The main feature of the garden is the duo of Crane and Turtle island, arranged with rocks and shrubs.
Directions
How to get there
Take city bus number 5 and get off the bus at the Nanzen-ji bus stop. Walk about 8 minutes in eastern direction. As for the subway, Keage Station on the Tozai line is a short 7-10 minute walk away.
The most beautiful way to get to Nanzen-ji and its sub-temples is to walk the picturesque Philosopher's path, which connects Nanzen-ji and Ginkaku-ji, the Silver Pavilion.
Address
Nanzenji-Fukuchi-cho, Sakyo-ku, Kyoto-city
京都市左京区南禅寺福地町
Admission
400 Yen