Top >
Tokyo National Museum
Tokyo National Museum(東京国立博物館)
The garden of the Tokyo National Museum became the home for 5 historical buildings gathered from all over Japan.
There is a teahouse called Tengōan (転合庵) that was designed by the famous Japanese tea master Kobori Enshū (小堀遠州) in Kyoto. Another, Kujōkan (九条館) was disassembled and brought here from the Imperial Palace in Kyoto.
The teahouses can be rented for tea ceremonies and
haiku
gatherings.
The garden is open for visitors in November, the peak season of autumn foliage and in spring during cherry blossom. It is located on the north side of the Honkan Gallery.
Contents of the eBook:
Introduction
History
The Teahouses
-Shunsōro
-Tengōan
-Rokusōan
-Ōkyokan
-Kujōkan


Other Highlights
-Five-storied pagoda
-Remains of the Jurin-in
-Azekura Storehouse
-The gravestones of the Arima clan
-The Porcelain Lantern
-The Iron Lantern
-Steles


Taking a walk with Anika
Around the Museum
13 pages full of information about the Tokyo National Museum
38 scenic pictures and descriptive illustrations
PDF 15MB
The eBook is delivered as PDF.
Feel free to pin these pictures to your Pinterest board: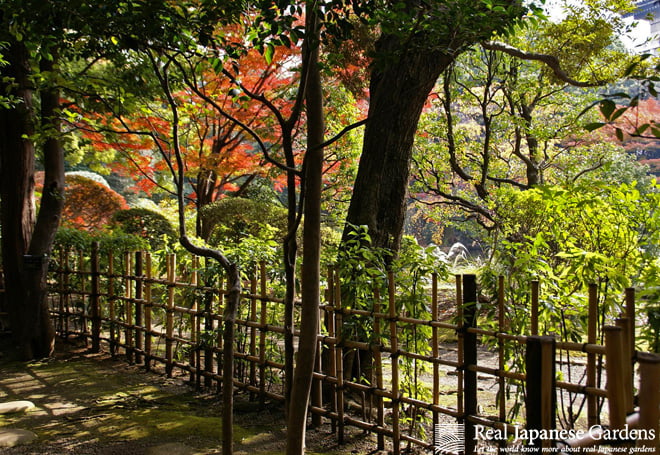 Directions
How to get there
The National Museum is situated in the north part of Ueno park. The closest station is Ueno station, which is served by the Yamanote ring line and many other train lines.

Opening times
9:30 a.m. – 5 p.m.
Closed on Mondays
Closed Jan 1, Feb 7 2023

Admission
Admission with general museum ticket: 1000 Yen

Address
東京都台東区上野公園13-9 東京国立博物館
Tokyo-to, Taito-ku, Ueno-koen 13-9

Telephone
03-5777-8600