Top >
The Golden Pavilion (Kinkaku-ji)
The Golden Pavilion (Kinkaku-ji)(金閣寺 鹿苑寺)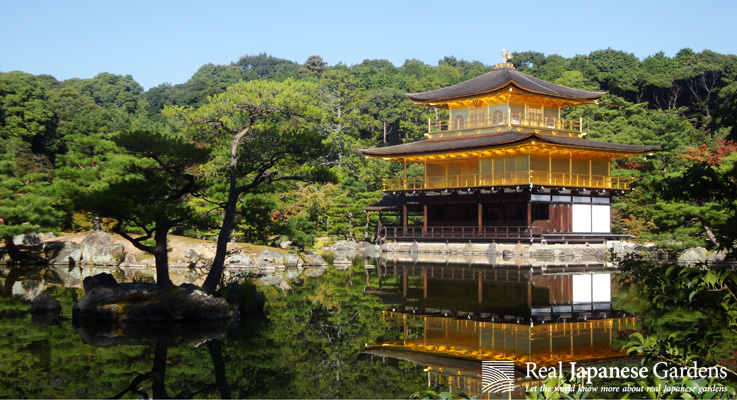 Kinkaku-ji (the more popular name for its actual name Rokuon-ji – 鹿苑寺) is one of the most famous temples in Japan and a definite must-see on you Kyoto bucket list. The awe-inspiring sight of the richly decorated golden temple that seems to float over the mirror pond is worth a visit to Kyōto alone. In combination with the numerous islands and pine trees, it looks almost surreal.
The estate was originally constructed as a retirement pavilion by the shōgun Ashikaga Yoshimitsu in 1397, it was turned into a Zen temple after Yoshimitsus death in 1408. During the Onin war (1467-77) the buildings and garden of Rokuon-ji faced the same fate as many other temples in Kyōto – they were completely destroyed by fire. Fortunately the pavilion survived the fire and the rest of the garden was restored. In 1950 the pavilion was burnt down by a young novice monk and needed to be rebuild in 1955. It was rebuilt very close to the original, although more parts of the pavilion received a leaf gold coating on the inside and outside.
The garden is an extraordinary example of a Japanese strolling garden of the Muromachi period. A path leads around the pond, offering great viewing axes and photo spots to take beautiful pictures of the temple.
If you come early, you can avoid the crowds, but have to share the garden with school children of all ages from all over Japan. A visit usually takes between 30 and 50 minutes. You can also have a cup of Matcha tea and traditional Japanese sweet (Wagashi 和菓子) in the garden.
Contents
Introduction
Historical Background
History of the Temple and the Garden
Buildings and Garden
Jenny's impressions
Questions for Hayano-San
Eating and Drinking
Directions
11 pages
19 illustrations
17 MB
2012
Feel free to pin these pictures to your Pinterest board: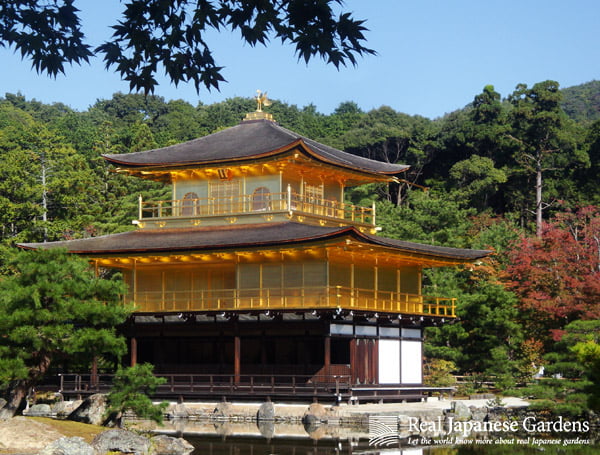 Directions
How to get there
Bus: Take the bus 101 or 205 and get off at the stop 'Kinkaku-ji'. From Kyoto Station it takes around 40 minutes.
Subway: Take the Karasuma line to Kitaō-ji station. From there you can take a taxi (10min) or the bus 101, 102, 204 or 205 (10 min).

Address
EN: 〒603-8231, Kyoto-Shi, Kita-Ku, Kinkaku-ji-Chō 1
JP: 〒603-8361, 京都府京都市 北区 金閣寺町1 Tel: 075-461-0013

Admission
500 yen

Opening hours
9:00am to 5:00pm