Shūgaku-in Rikyū is an exception among Kyoto's imperial gardens. There is not only one garden on its grounds, but three separate gardens. The gardens are connected by gravel paths, which lead through vegetable patches and rice fields. It also never was the official residence of a member of the imperial family – Emperor Gomizuno-o (1596-1680) had built these gardens as a private retreat in the outskirts of Kyoto, on the foot of the Higashiyama, the eastern hills. Additionally, this garden may be the best example of the use of "borrowed landscape"- Shakkei (借景) in Japan.
The retired emperor Gomizuno-o (後水尾天皇) built the gardens between 1653 and 1655 with the financial support of the shogun. More than 600 years earlier, in the Heian period (794-1185), a temple called "Shūgaku-in" stood on this site. Without any actual political power, the emperor had lots of time on his hands to dedicate himself to the study of fine arts, poetry, architecture and design. It is therefore believed that most of the design was his own work. He has already participated in the design process of his official retirement residence Sentō Gosho in 1629, whose main designer was garden master Kobori Enshū. Enshū passed away in 1647, but his influence on emperor Gomizuno-o is still visible in the design of the Shūgaku-in Rikyū gardens.
There are three gardens: The lower garden, the middle garden and the upper garden. All of them have their own characteristics, but most visitors agree that the upper garden is the most spectacular one – especially in autumn, when the trees of the surrounding mountains turn into a vibrant red, yellow and orange.
Access to the garden is only granted to guided tours (free of charge). You can apply for a tour at the Imperial Household Agency Office in Kyoto (3 Kyoto-gyoen, Kamigyo-ku, Kyoto, 602-8611) or on their website:
http://sankan.kunaicho.go.jp/english/guide/shugakuin.html .
A contingent of tickets is available each day from 11 am on a first come first-served basis.
This is eBook is about the Japanese stone lanterns (Ishi-doro) of the Shūgaku-in Rikyū gardens.
Content
Shugaku-in Rikyu
Lower Garden
Stone lantern – Ishi-dōrō (石燈籠)
Kimono-sleeve lantern – Sode-gata tōrō (袖形燈籠)
Alligator's mouth lantern – Wanikuchi dōrō (鰐口燈籠)
Korean stone lantern – Chōsen-dōrō (朝鮮燈籠)
Middle Garden
Christian lantern – Kirishitan-dōrō (キリシタン燈籠)
Oribe stone lantern (織部燈籠)
Upper Garden
Mountain temple lantern – Yamadera-dōrō (山寺燈籠)
Waterfall viewing lantern – Takimi-dōrō (滝見燈籠)
5 pages with
13 pictures of the stone lanterns of the Shugaku-in Rikyu garden
The eBook is delivered as PDF.
Feel free to pin these pictures to your Pinterest board: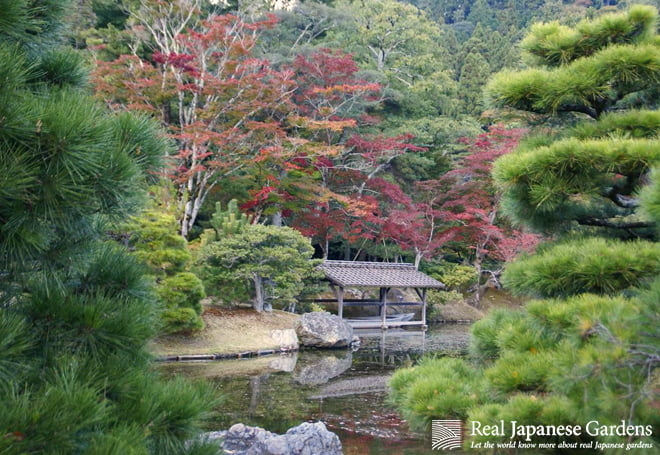 Directions
How to get there
The easiest way to get to the Shūgaku-in Imperial Villa is to take the city bus number 5 to the stop Shūgaku-in Rikyu Michi. From there, walk 15 min in eastern direction.

Admission
Free
Only adults over 18 can apply for the tour.

Address
JP: 〒 606-8052 京都府京都市左京区修学院藪添
EN: Shugakuin Yabusoe, Sakyo Ward, Kyoto, Kyoto Prefecture 606-8052

Telephone
+81-75-211-1215