Top >
Saihō-ji (Koke-dera)
Saihō-ji (Koke-dera)
(西芳寺 (苔寺))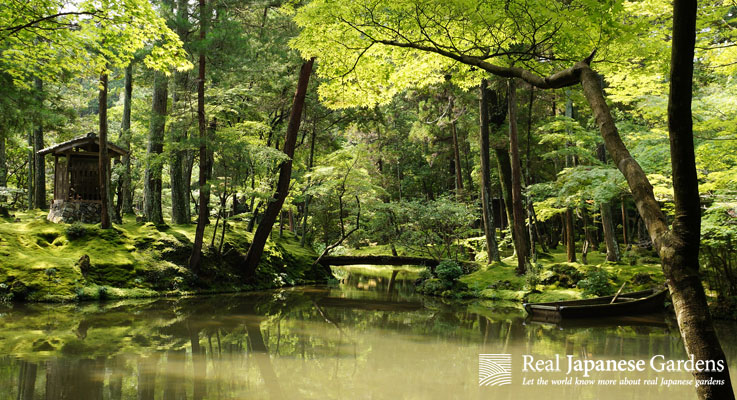 The garden of Saihō-ji is acclaimed by many as Kyoto's most beautiful garden and is listed as a UNESCO World Heritage. It is especially famous for its moss garden, for which reason it is also commonly known as Moss temple or Koke-dera (苔寺).
In 1339, the famous Zen monk Musō Soseki became the head priest of the temple and remodeled the garden. For him, creating gardens was part of his zen meditation routine. He founded a lot of temples and built or remodeled their gardens, but Saihō-ji is clearly his masterpiece.
Shogun Ashikaga Yoshimitsu (1358-1408, 足利義満) sat here in meditation in the upper part of the garden commemorating the garden's creator Musō Soseki. Yoshimitsu's grandson shogun Ashikaga Yoshimasa (1435-1490, 足利善政) loved this garden so much that he modeled his own retreat, the Temple of the Silver Pavillion – Ginkaku-ji (銀閣寺), after Saihō-ji. Famous monks of different Buddhist sects have been head priests of the temple – namely Kūkai (774-835), Hōnen (1133-1212) and Musō Soseki (1275-1351). During the Edo period the temple fell into disrepair. It must have been at this time that moss slowly encroached the garden until it covered all of it. Today, there are roughly 120 types of moss in the garden.
The best times to view the garden are during the rainy season (mid-June until mid-July) and in autumn, when the red and orange of the maple's leafs contrast nicely with the lush green of the velvety moss.
Contents
History of the temple
Buildings of the temple
Musō Soseki's Garden Philosophy
The Moss
The Lower Garden
The Upper Garden
Jenny's impressions
Registration process
How to get there
Literature
18 pages
84 illustrations
19.3 MB
2012
Directions
How to get there
Saihō-ji is situated in the picturesque Arashiyama mountains to the west of Kyoto. Although you need to change trains, it is not very complicated to get there. First get to Katsura station by taking the Hankyu Kyoto line. In Katsura, change to the cute trains of the Hankyu Arashiyama line to get to Matsu-o station. From there, you can take a bus to get to Koke-dera (it says so big in big letters on the front of the bus). After that, it is only a short walk to the temple.
You can also go directly from Kyoto station with bus 28 until Matsuo-Taisha-mae and walk around 15 min in southern direction. From the Sanjō station of the Keihan line, you can take bus 63
to the final stop 'Koke-dera'.
Address
Saihō-ji Temple
56 Jingatani-cho
Matsuo Nishikyo-ku
Kyoto, 615-8286, Japan
京都府京都市
西京区松尾神ヶ谷町56
Telephone
075-391-3631
Admission
Visiting the temple and its garden is only possible with previous registration by a return postcard (往復ハガキ).
You will be told on the return post card a time and date when visiting is possible. The entrance fee is 3.000 Yen.