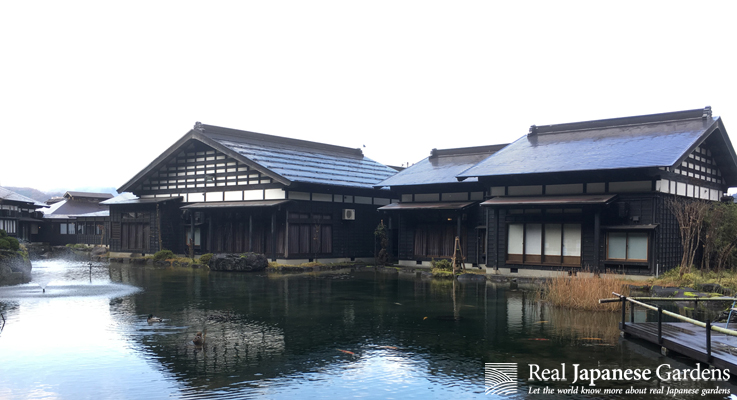 Ryugon is one of the most famous guesthouses in Japan.
It opened its doors as a guesthouse in 1969 after the construction began in 1964.
Utsugi Toshio, the founder of this traditional ryokan, saw a lot of houses in his hometown replaced by modern buildings when he returned from a longer stay out of town. After several unsuccessful attempts to convince the villagers to preserve the traditional buildings, he started to collect houses to combine them into a beautiful Japanese guesthouse.
In 2019 this hoary guesthouse in Niigata was temporarily closed and completely renovated to reopen in a new and beautiful look in the summer of the same year.

Although ryugon is now a luxury hotel, it still has the old charm. The best architects and interior designers have thought of how to transport the message of the Snow Country through material and shapes and the result is gorgeous.
Contents
Introduction
History of the guesthouse
Buildings
-Chumon-zukuri-
-The Gate Nagaya Mon
-Kura Zashiki
-Shin Zashiki
-Onma Zashiki
-Genkan

Rooms
-Yucho no Ma
-Keisetsu no Ma and Koshoin no Ma
-Mushin no Ma
-Kimigaya
-Entsu no Ma
-Meijuan

Gardens
-Main Garden
-The Courtyard Garden
-The Front Garden
-The Mountain-Stream Garden
-The Tortoise Waterfall Garden

The Onsen Baths
-Yawaragi no Yu
-Madoka no Yu

From 龍言 to ryugon
Snow protection methods
Around ryugon
Access & General Information
15 pages
31 pictures & illustrations
15 MB
2020
eBook will be delivered as pdf.
Ryugon Video



Watch the Ryugon video here.
Directions
How to get there
Take the Joetsu Shinkansen from Tokyo for one and a half hour and get off at Echigoyuzawa station.
If you booked a stay at the Ryokan, a shuttle service will wait for you in front of the station.
If you prefer to go by yourself by train, take the JR Joetsu Line until Muikamachi and walk for 20min into South-eastern direction or take a taxi (6min).
Costs
A stay at the Ryokan costs from $180 upwards.
Address
〒949-6611 新潟県南魚沼市坂戸1-6
1-6 Sakado, Minami-Uonuma, Niigata 949-6611
Tel.: 025-772-3470