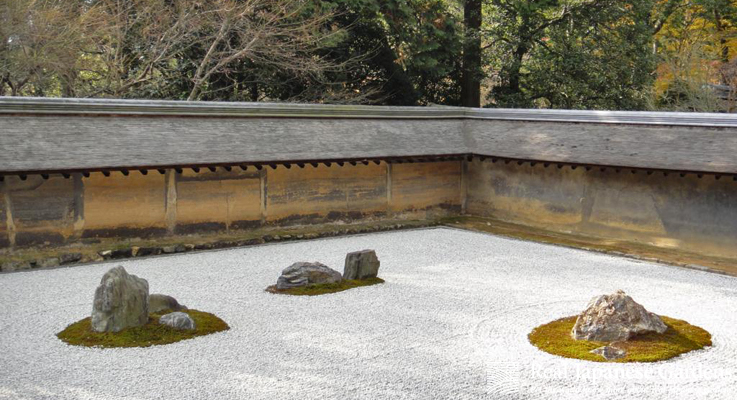 Ryōan-ji is maybe the most famous rock garden of Japan.
Ryoan-ji was built on the grounds of a villa of the Fujiwara clan in the Heian period (794-1185). The deputy of the shogun and warlord Hosokawa Katsumoto bought the estate in 1450 and built his residence on it, together with the temple Ryōan-ji.
It was destroyed in the Onin War, but rebuilt in 1488 by Katsumoto's son Matsumoto. It is possible that the garden of the temple was also created at that time, but some scholars argue that it was built earlier by Katsumoto or later, for example, by Zen monk and garden designer Sōami, who also built the dry landscape garden (karesansui) of Daisen-in.
The temple burnt down in 1797, and the garden was recreated later. As a print of the year 1799 shows, the garden today hasn't changed since that time.
Apart from little patches of moss around the stones, this Japanese garden has no plants. Behind the mud wall a row of trees create a green backdrop for the garden, making the light gray sand seem even brighter. The design is more complex than it seems at first – for example is it impossible to view all 15 stones at once from any angle of the terrace. The composition is also a fine example for the delicate balance of mass and void and the skillful use of numbers and groups.
Contents of the eBook
Introduction
History of the temple
The Rock Garden of Ryoan-ji
Around the Rock Garden
Sub temples of Ryōan-ji
Around the pond
How to get there
Other temples near Ryoanji
15 pages
37 illustrations/pictures
30 MB
2015
eBook will be delivered as PDF.
Feel free to pin these pictures to your Pinterest board:
Directions
How to get there
Two bus lines are getting you to Ryoanji – Either take city bus number 50 to the last stop Ritsumeikan-Daigaku-Mae and walk for seven minutes in direction of travel, or take city bus number 59 until the stop Ryoan-ji Mae.
If you are traveling with the trains of the Keifuku Railway line (they look more like trams), you can get off at Ryoan-ji Michi station and walk north for 7 minutes.

Opening hours
March – November: 8:00am to 5:00pm
December – February: 8:30am to 4:30pm

Admission
600 yen

Address
JP: 〒616-8001 京都市右京区龍安寺御陵下町13 龍安寺
EN: 13, Ryoanji Goryonoshitacho, Ukyo-ku Kyoto-shi, Kyoto, 616-8001, Japan