Koishikawa Korakuen(小石川後楽園)
The Koishikawa garden, formally called Koishikawa-kōraku-en (小石川後楽園), is a small garden jewel in Tokyo. Well preserved from the Edo period (1603-1868), it is one of the oldest gardens in Tokyo. The daimyo and son of shogun Tokugawa Ieyasu, Tokugawa Yorifusa started to build the garden in 1629, and his son Tokugawa Mitsukuni finished it in 1669 with the help of the Chinese scholar Shu Shunsui.
The garden features several scenes that represent famous Japanese and Chinese landscapes. As typical for strolling gardens, there is a pond in the middle of the garden, and a path that leads around it. The garden master designed the garden that the visitor sees a different scenery, a different view every few steps. The pond of the garden is fed by the water of the nearby Koishikawa river (Little stone river).
Especially the nearby Tokyo dome, the tower of the Bunkyo Civic Center with the sky view lounge, and the screams from the small amusement park's roller coaster make clear that this garden is a sweet little oasis in the middle of Tokyo.
Contents:
Introduction
History
Buildings
Bridges
Lanterns
Waterfalls
Stones
Highlights
Flowers
Anikas Impressions
Around Koishikawa Korakuen
23 pages full of information about the Koishikawa Korakuen Garden
56 pictures of the gardens
PDF 10MB
The eBook is delivered as PDF.
Feel free to pin these pictures to your Pinterest board: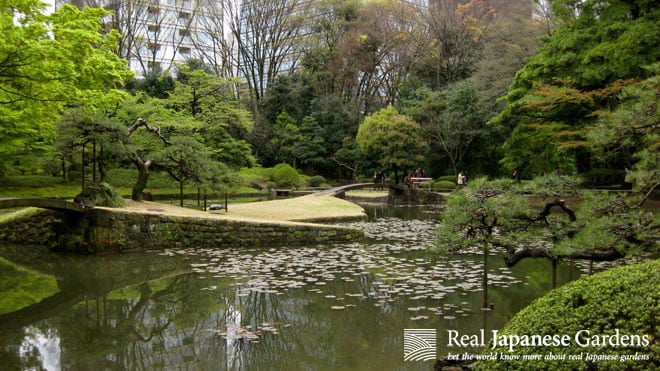 Directions
How to get there
To get to the Koishikawa gardens, you can either go directly to Koshikawa station (小石川駅) with the Marunouchi or Namboku line or take the Sobu line or Mita line to Suidobashi station (水道場所).
But the nearest Station is IIdabashi, which is served by the Sobu-Line, Tozai-Line, Namboku-Line, Yurakucho-Line and Oedo-Line.

Address
JP: 東京都文京区後楽1-6-6
EN: 1-6-6 Koraku, Bunkyo-ku, Tokyo

Opening times
9am – 5pm (last entrance at 4:30)

Closed around New Year between December 29th and January 1st.

Admission
300 Yen