---
Famous Gardens Kyoto Area
When it comes to gardens, Kyoto is THE place to go. It has been the political, religious and cultural capital of Japan for several centuries, and this environment has fueled the development of all major Japanese traditions. Emperors, aristocrats, samurai – they all included wonderful gardens in their residences, some of which can still be explored today.
---
Famous Gardens Tokyo Area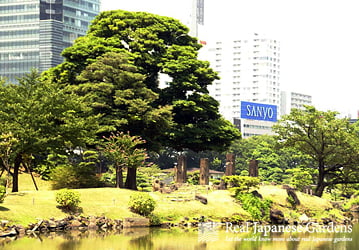 Being the capital of Japan since the Edo period (1603-1868), Tokyo's gardens are fundamentally different from the ones you can find in Kyoto. Here, the contrast-coexistence between Old and New is striking. Entering a Tokyo garden gives you the feeling of time travel. At the garden gate you leave the hectic world behind you and take sanctuary in a perfect mini landscape.
---
Famous Gardens Kamakura Area
Just 50 km outside of Tokyo, a train ride of an hour or less, you can find the garden paradise Kamakura. Kamakura is a very old town with a long tradtion. Most of the gardens belong to temples that were founded before or during the Kamakura period (1185-1333), when Kamakura was the capital of Japan. Kamakura is surrounded by densely wooded mountains on three sites, which make a perfect backdrop for gardens (e.g. Zuisen-ji, the flower temple).
---
Famous Gardens Other Areas
Pick a road less traveled and discover cute towns and old gardens in Japan's countryside. Some of these smaller towns have surprisingly magnificent gardens, others are little gems you discover along the way. Experience the real Japan and you'll find that the people in countryside are very warm and welcoming. Plus, really good food can be found here for little money.