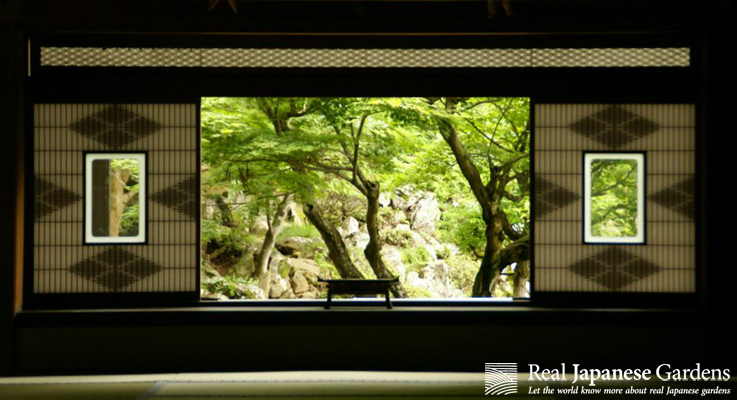 Erin-ji is a quiet Zen temple surrounded by the Yamanashi mountains. It was built in 1330, when Nikaidō Sadafuji the military governor of the Kai-no-kuni administration asked the Zen priest and garden designer Musō Soseki (夢窓 疎石), also known as Musō Kokushi, to found the temple.
At that time, it was a Rinzai Zen temple of the Engaku-ji branch. It was destroyed in the Ōnin war (1467-77), but rebuilt when the Takeda samurai clan appointed it to be their family temple. In 1541, it changed to be a temple of the Myōshin-ji branch of the Rinzai school. The famous daimyo Takeda Shingen (武田 信玄) is buried here.
It is quite surprising that you only see a few visitors in the temple, given its importance, size and beauty. There is a small dry landscape garden and a big pond garden. Especially the pond garden is impressive. The temple also features a nightingale floor whose wooden boards squeak, when a person (or ninja) tries to sneak up to the building.
Get the eBook now!
Contents:
Introduction
The monk and the garden
Cold fire and spiritual enlightenment
Architectural features of the temple
The Zen garden
10 pages, packed with
42 great Japanese garden pictures
in 14 MB
The eBook is delivered as PDF.
Feel free to pin these pictures to your Pinterest board: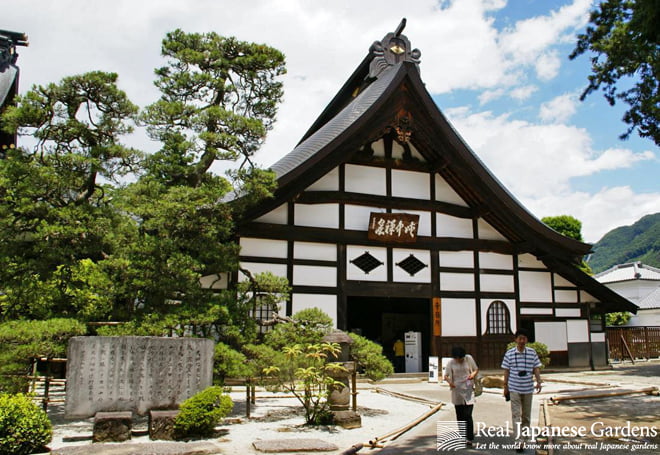 Directions
How to get there
From Shinjuku station, take the JR Chuo Line (中央線) to Enzan Station (塩山駅). With the Rapid train, this takes about 1hour and 25 minutes. From there take the bus and get off at the bus stop called "Erin-ji".

Telephone
0553-33-3011

Address
2280 Oyashiki Enzan , Koshu City 404-0053

Admission
500 Yen

Opening hours
8:30am – 4:30pm