Top >
Tōfuku-ji - Garden of the Hōjō
Tōfuku-ji - Garden of the Hōjō(東福寺)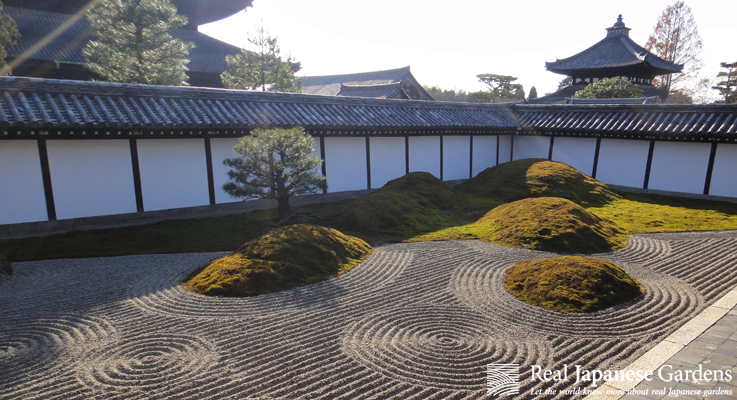 Tōfuku-ji is one of the Five Great Zen temples in the Kyoto Mountain system. It is a temple complex in southern Kyoto with 24 sub-temples.
Its garden were redesigned by the scholar Mirei Shigemori in the 1930s. He had studied the traditional Japanese gardens for decades before starting to design gardens himself. He built his designs on the old garden design principles, and connected them to the contemporary Japanese design of that time. The result are impressive gardens like the four gardens of Tōfuku-ji that surround the hōjō, the former head priest's quarters.
Another remarkable feature of this tempe is the big mountain gate (山門 – San-mon) to the south of the garden. It is the oldest San-mon in Japan. The temple was built in 1236 (Kamakura period), and the founding priest is Enni Ben'en, a Japanese priest that went to China to study Zen buddhism. He is also believed to have imported the Udon wheat noodles, until today one of the most popular dishes in Japan.
Feel free to pin these pictures to your Pinterest board:
<!a href="/mt_pdfs/RJG%20-%20Kyoto%20-%20Obaiin-Example.pdf" target="_blank" rel="noopener noreferrer">
eBook coming…
Directions
How to get there
Take the Nara line from Kyoto station towards Nara. Get off at the first stop, Tōfuku-ji, and walk in southern direction until you get to the temple.

Admission
– 500 Yen (Hojo and gardens)
– 600 Yen (Tsutenkyo Bridge and Kaisando Hall), 1000 Yen during Autumn season
– 1000 Yen Combi ticket garden and bridge (not during autumn season)

Opening Times
April – October: 9am – 4pm
November – first Sunday in December: 8:30am – 4pm
first Monday in December – to March: 9am – 3:30pm

Address
EN: 15-778 Honmachi Higashiyama-ku, Kyoto
JP: 〒605-0981 京都府京都市東山区本町15丁目778